Biography
Geoffrey Olsen was born in Merthyr Tydfil, South Wales on November 4th, 1943. His paintings are characterised by their strong relationship to landscape and memory. In his paintings he develops these themes in relation to the particular places where he lived and worked; Merthyr Tydfil, the Cotswolds, Rome, Florence and most recently, Miami, Florida.
He was educated at Newport College of Art, The West Of England College Of Art, Bristol, Cardiff College of Art, and The Academy Of Fine Art, Munich, Germany. From 1978-2001 he was a lecturer at Oxford Brookes University in Oxford, UK. In 1992 he was a visiting lecturer at the Studio Art Centers International in Florence, Italy. From 2001-6 he was an Associate Professor of Painting and Director of the MFA Visual Arts program at Florida International University, Miami. From 1996-7 he was artist in residence at Florida International University, Miami, US and from 1999-2000 he was artist in residence at Cheltenham Art Gallery & Museum. In 1999 he was awarded an Abbey Award In Painting at the British School at Rome.
His paintings are devised in series and make use of sequential layerings of paint and sometimes text, which are accumulated over long periods of time. The paintings utilize a variety of painterly conventions to transform experience of an external world into what he called "imagined constructs" suggestive of "both a given order and imminent change". During the late 1990s his practice broadened to include the production of temporary wall paintings, artists books and work in digital media.
View Exhibition Statements: "Extended Collage in Imminent Change" written for the catalogue for The Miami Paintings, Frost Museum 2009.
Geoffrey Olsen was diagnosed with leukaemia in 2003, he died in Gloucester on December 6th, 2007.
---
Obituaries
Obituary by Tony Curtis from the Independent
http://www.independent.co.uk/news/obituaries/geoffrey-olsen-original-and-energetic-painter-765306.html
Obituary at the Oxford Mail
http://www.oxfordmail.co.uk/news/community/obituaries/obits/1916978.geoffrey_olsen/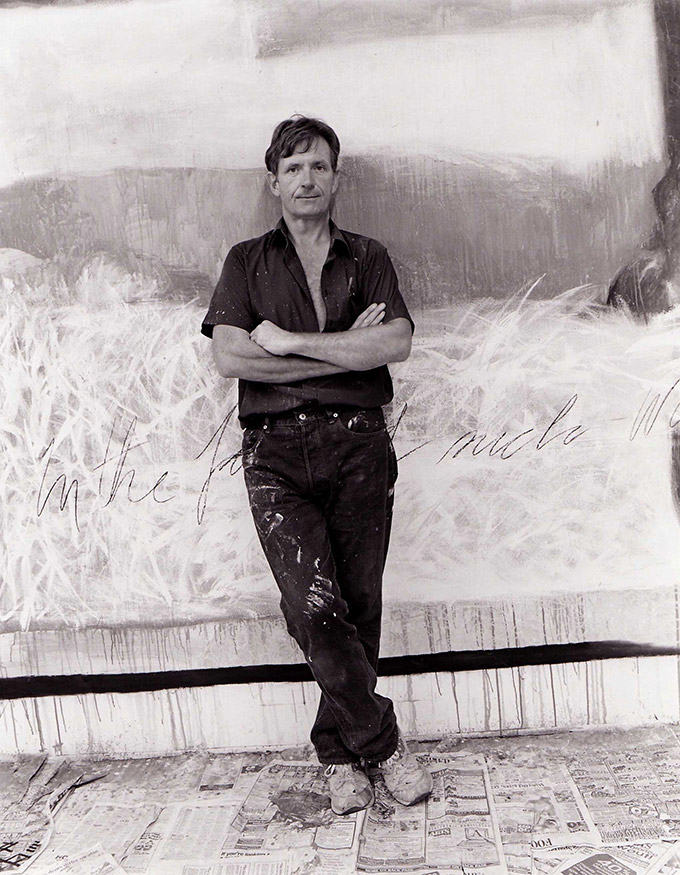 Geoffrey Olsen
Wall Painting Miami
Florida International University
1996