Private View: Geoffrey Olsen 'Before the Window'
March 21st, 2012
7-9 pm April 14th
14th April – 31st May 2012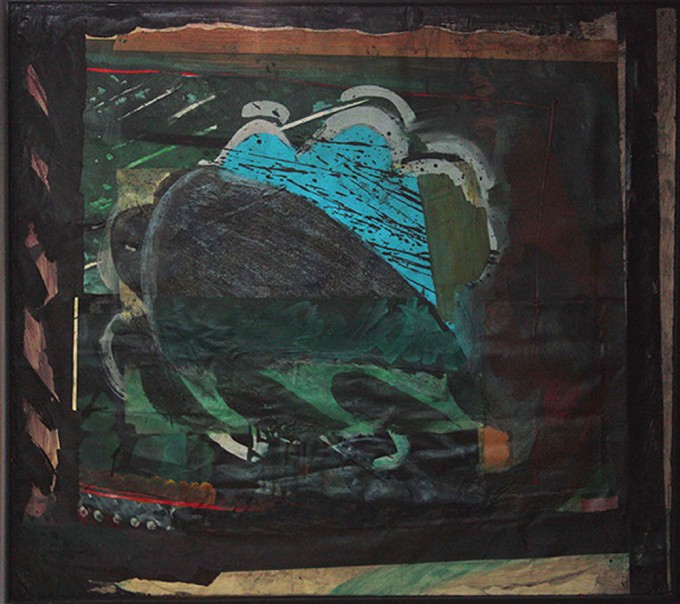 Cyfarthfa Castle Museum & Art Gallery
Brecon Road
Merthyr Tydfil
South Wales
CF47 8RE
Tel: +44 (0)1685 727371
Admission: Daily, 10am – 5.30 pm (last admission 5pm)
info@geoffreyolsen.com
museum@merthyr.gov.uk
The works selected for this exhibition reflect an engagement with the social history and industrial landscape of South Wales and in particular the landscape surrounding Merthyr Tydfil where Geoffrey Olsen grew up in Georgetown. His paintings are characterised by their strong relationship to landscape and memory. In many of the paintings shown here relationships can be established between the processes of layering, superimposition and obliteration in the paintings themselves and the specific dynamics of the Welsh landscape and by extension to the workings of memory. In the 1980s and 1990s Geoffrey Olsen produced a number of large-scale paintings in oil and acrylic that developed these ideas and ways of working to encompass themes of growth, decay and regeneration (Place of Burial Series, 1990s).
Of specific interest to this exhibition is the fact that Geoffrey was a pupil at Cyfarthfa Castle Grammar School during the 1950s. Paintings such as 'Through Cyfarthfa' (1982) carry very personal resonance when shown in this context, as do, 'Around Pulmans Yard, Georgetown Merthyr Tydfil' (1981) and 'Ynysfach Winter Visits, No. 3′. Each of these paintings presented here furthers the sense that in many of the paintings there is a distinctive blurring of the relationship between the external and internal landscapes of self and place; windows are both literal and metaphorical. Throughout his life Geoffrey Olsen continued to draw on the landscape of South Wales alongside the inspiration that he drew from the other places in which he subsequently lived and worked; including Oxfordshire, Rome, Florence and Miami, Florida.
Geoffrey Olsen's work has been exhibited internationally since 1974 at venues that include The Corcoran Gallery of Art, Washington, US, Ikon Gallery, Birmingham, UK, Modern Art Oxford, UK and Camden Art Center, London. In 2009 The Frost Museum in Miami exhibited his large scale Miami. During 2000- 2006 there were solo exhibitions of his work at The Museum Of Modern Art, Wales, The National Library of Wales, The University of Surrey, Cheltenham Museum & Art Gallery, Brewhouse, Taunton and Llantarnam Grange Arts Centre, Wales. In 1999 he was awarded an Abbey Award In Painting at the British School at Rome. Mixed exhibitions have included "Painting The Dragon" at The National Museum of Wales, UK,"Wales Drawing Biennale 2000", Glyn Vivian Gallery, Swansea, Wales, UK. "Showcase Wales 2001" and Museum Of Modern Art, Wales. Geoffrey Olsen (1943-2007).
This work has been selected for exhibition by Geoffrey Olsen's wife; the painter Valerie Jordan.
Download the flyer in PDF format